Project Documents
SMP Video
This video features members of the industry, regulators, and other stakeholders talking about the RI Shellfish Management Plan, and the importance of shellfish economically and culturally to Rhode Island and its residents. Produced by Shedlight Productions and the URI Coastal Institute.

Project Documents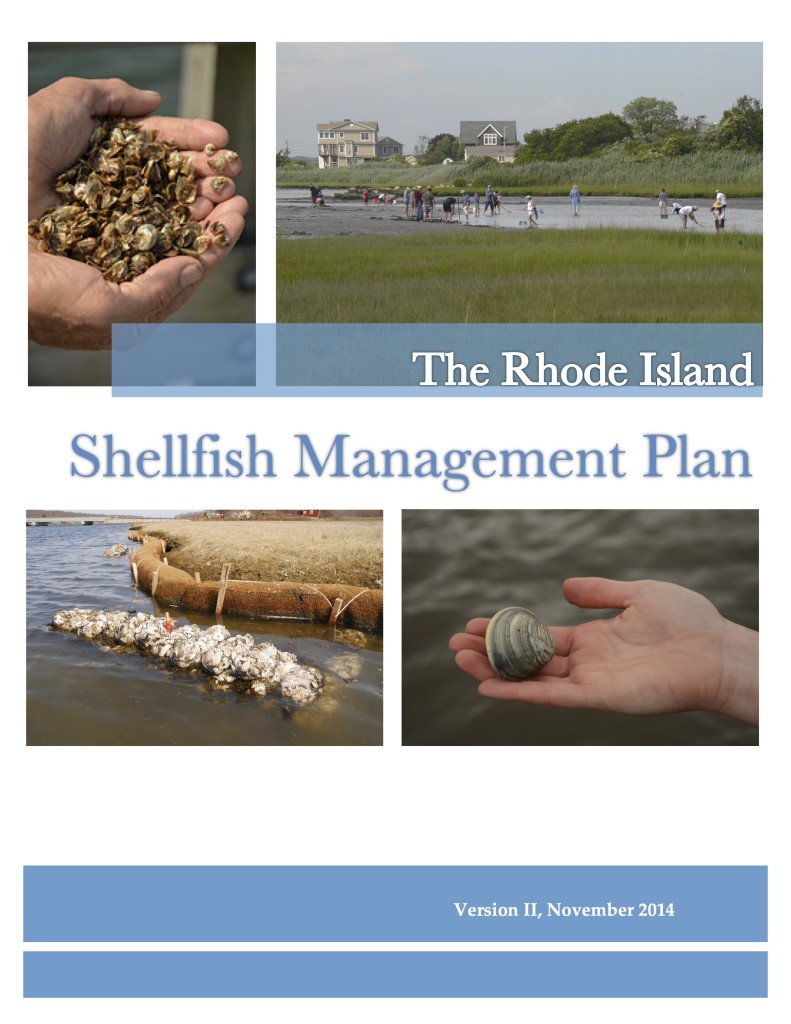 RI Shellfish Management Plan
This document provides policy guidance regarding management and protection measures for shellfish, such as quahogs and oysters, located in state marine waters.
,,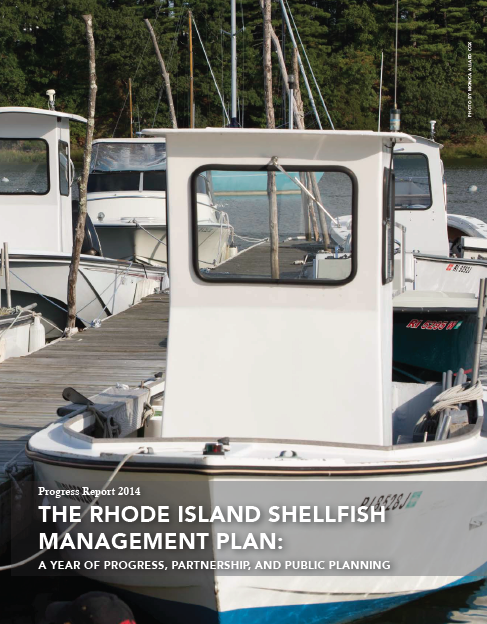 The Rhode Island Shellfish Management Plan: A Year of Progress, Partnership, and Public Planning
This progress report highlighs the successes of the SMP, including  increased funding for shellfish research, improved coordination between state agencies, and greater understanding between wild harvest and aquaculture shellfishermen.
,
Memorandum of Agreement Between RI Department of Environmental Management (DEM) and RI Coastal Resources Management Council (CRMC)
This Memorandum of Agreement (MOA) recognizes the need for an understanding between DEM and CRMC concerning aquaculture activities. While CRMC generally conducts and oversees inspection of aquaculture operations in the state, the formal authority has been with DEM. Both agencies and industry acknowledge that CRMC is the recognized, capable, and practicing inspection authority and with urgings and support from DEM Division of Agriculture, the MOA was signed in October 2014, giving CRMC designated status on behalf of DEM to perform lease inspections in Rhode Island. This MOA signifies a willingness and ability to achieve cross-agency collaboration, agency responsiveness to the needs of the industry, and overall an improved and more efficient way of doing business.
RI Shellfish Research Updates
This document contains updates from Rhode Island Sea Grant 2014-2016 research efforts in the areas of shellfish biology and the ecology of the resources that support shellfish and shellfish management. Researchers have recently finished their first field season collecting data and will be processing this information over the winter months.
Shellfish Management Plan Fact-sheet
This document discusses the Shellfish Management Plan, its areas of focus, and the Plan's projected timeline.
Scopes of Work Documents
Draft Economic Scope of Work
This document describes a market analysis study of the shellfish industry to be completed by the University of Rhode Island Resource Economics Department. The study will examine trends in supply and demand, and will consider factors such as seasonal and annual fluctuations, varying prices paid to fishermen and by consumers, and the role of locally harvested product versus farmed or imported products. The study will focus on quahogs and oysters initially, but may be expanded to include other species in the future. This document was reviewed via a public comment process which ended March 8th, 2013. The SMP Economic Scope of Work (ESOW) Public Comments and SMP Team Responses can be viewed here.
Draft Legal Scope of Work
This document describes work to be completed by Marine Affairs Institute at Roger Williams University School of Law for the Shellfish Management Plan. It focuses on legal and policy research, including compiling and summarizing existing legal information governing shellfisheries, summarizing the history of shellfisheries management, and addressing legal questions that arise throughout the process and was reviewed via a public comment process which ended January 31, 2013.
Shellfish Management Plan Goals and Objectives
Draft SMP Goals and Objectives
Released in March, 2013, the draft document for the SMP Goals and Objectives was made available to the public during an open comment period. Following this review period, the goals were adjusted in response to comments received (see below).
Goals and Objectives Comments and Response Matrix
Each of the comments received during the public comment period were assessed and responded to by the SMP Team, and can be viewed in this document.

Final SMP Goals and Objectives (May, 2013)
This document includes the SMP Vision statement, as well as the final SMP Goals and Objectives.
Use Maps
RI Shellfish Management Plan Use Maps
At the request of stakeholders, we developed a set of current "use maps" for the Bay and ponds that includes aquaculture lease locations, commercial and recreational fishing areas, and restoration sites, to help minimize use conflicts. These maps were created via a series of Input Sessions. To learn more about the process used to create the maps, click here.