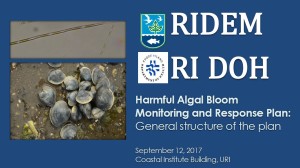 Posted on behalf of RI DEM:
The Rhode Island Department of Environmental Management (DEM) and partners held an informational meeting on September 12th to review Rhode Island's new monitoring and contingency response plan for harmful algae blooms (HAB). Last year, Rhode Island experienced its first HAB caused by the presence of toxic phytoplankton in local waters; the event triggered an emergency closure of the state's shellfishing areas. A subsequent bloom earlier this year resulted in a second emergency closure of some waters.
Presentations on HAB were given by DEM, RI Department of Health, and researchers at URI and DEM. All presentations are posted here HAB Monitoring Plan Workshop Presentations_Sept2017.
For more information on DEM programs and initiatives, visit www.dem.ri.gov. Follow on Facebook at www.facebook.com/RhodeIslandDEM or on Twitter (@RhodeIslandDEM) for timely updates.