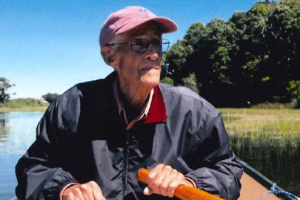 Rhode Island author, Prentice Stout, will present perspectives of life – past and present – on Point Judith Pond. Join him on Wednesday, March 9th at the Kettle Pond Visitors Center in Charlestown, from 5:30PM-7:00PM. Refreshments will be served – Please rsvp to Azure@crc.uri.edu or 401-874-6197.
Prentice has devoted his entire career to teaching, filming and writing about nature. His travels have taken him and wife, Patty, from Antarctica to the Galapagos. However, his real love of place has always been Point Judith Pond, a spot he calls "A Place of Quiet Waters" which also serves as the title for his 2006 book. Prentice has served as an enthusiastic educator at Camp Fuller and greatly enjoys seeing young adults learn and thrive as they come to deeply understand the pond's many assets and ecosystem.
Part of Rhode Island's Coastal Salt Ponds and You: A Public Education Series.