Appreciating the 'Under Loved'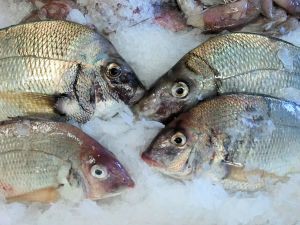 Shared on behalf of Rhode Island Sea Grant
Appreciating the 'under loved'
Scup took the spotlight at the second annual Rhode Island Seafood Challenge at Johnson & Wales University (JWU) earlier in April, where three student teams prepared the underutilized, but tasty, local fish.
The goal – to raise awareness among budding chefs – and the public – about local, sustainable seafood products.
The event was a partnership between JWU, the Commercial Fisheries Research Foundation and Rhode Island Sea Grant to show just how scrumptious scup, also known as "porgy," can be.
Scup have an expansive range in the Atlantic, from Maine to North Carolina. They have a mild flavor, making them suitable for a variety of preparations, but the bony, 1-to-2 pound fish is difficult to fillet, and doesn't yield much meat. These challenges make scup cheap, but that means fishermen don't always find it profitable to drop nets.
"You've heard a lot about scup. It's sometimes described as underutilized, under eaten, and here's my favorite one, 'under loved,'" said Peg Parker, the executive director of the Commercial Fisheries Research Foundation. But new technology, especially an innovative machine developed in Michigan that removes the bones from scup, may change all of that.
With this innovation, boneless scup fillets can be easily produced. "Now we need to create the demand for fish like this," Parker said.
To read the full article, please click here.